Appetizers, 2004
This year, I sort of did a "best of" for the appetizers, making some of my favorites that I've also done enough times for it not to be overly taxing for my brain.
The mushroom soup is very easy (most soups have a large make-ahead component anyway) and based upon a standard cream-based mushroom soup. My only change is using some wild mushrooms for additional flavor, and smoking the main component mushrooms first. Several people likened the resulting flavor to a single-malt scotch.
The onion tarts I've made countless times before (both in bacon and non-bacon varieties) and are from one of my heros, Michael Richard. One change this year was that I made the bacon myself. That's sort of a fun thing to do on a series of long weekends. Well, I think it's fun anyway.
Finally, of course, what would a birthday be without foie gras (we may know in 7 more years)? It came out pretty much the way it does most years. I had meriko come over this year to clean, slice, and pack the foie into the terrine mold. It's a great learning experience if one has never handled foie before, and after eight years, I've pretty much hand all of the practice that I need. We plated it with a pile of frisee and black truffle oil, and this year brioche instead of a pain de mie. Foie terrines are also great for parties because you really need to make them a week ahead so that the flavors can blend.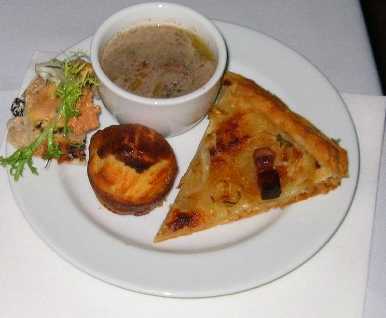 Clockwise from top, smoked mushroom soup; bacon onion tart, brioche, foie gras
Smoked Wild Mushroom Soup
- cold smoke 1 pound mushrooms. Normal field mushrooms are fine, but I used portabellos because they are easier to manipulate on the grill. If using portabellos, scrape off the gills to avoid coloring the soup a dark gray color.
- chop mushrooms, sautee with 1 large onion until browned.
- add water to cover, a small handfull of dried mushrooms of your choice, salt and pepper, and a bit of thyme, simmer for 30 minutes
- puree and strain soup using a course strainer (or the yield will be very small), you can chill and/or freeze at this point
- re-heat soup base, adjust seasonings if needed
- chop fresh wild mushrooms for garnish. If using some dried, rehydrate in water, and after the mushrooms are ready, add the remaining water to the soup
- when soup is up to heat, add between a pint and a quart of heavy cream, bring it back up to heat, but do not boil
- sautee the wild mushroom garnish in butter with a bit of shallots, salt and pepper
- add a small amount of sherry as a final flavoring. I used one from Merryvale Winery called "Antiguia" which has a mushroom overtone (I think).
Bacon (or smoked bell pepper) Onion Tart
- Cut into large dice 2 large onions
- Sweat onion slowly until fully cooked, all liquid is reduced, but do not brown. 45 minutes over low heat
- Remove from heat and add 1 C of cream fresh, or sour cream thinned with a bit of heavy cream. Stir until well combined
- Allow to cool completely (can be done ahead and kept in fridge)
- Roll out puff pastry to 1/4 inch thick. I make my own, but store bought is also fine. If possible, find one made with butter rather than shortening. Cut a round using a knife or pizza cutter, about 8-10 inches around.
- Heavily "dock" (poke holes) the inside of the round with a fork. You almost can't have too many holes. This keeps the inside from rising too much, while allowing the outside to "balloon" up and form the outside edge.
- Cut bacon or bell pepper into thick matchstick length "sticks."
- You can cover/wrap everything to this point and place it into the fridge for up to a day
- Heat oven to 375-400 degrees
- Spread the onion mixture in the center of the round. You want a full coverage of onions, which will probably seem like a bit much. It's OK, the cream thickens while the tart bakes.
- Add bacon or bell pepper on top, and then some cracked black pepper and a sprinkling of fresh thyme leaves
- Place on baking sheet, bake for 35-45 minutes or until fully cooked and the bottom is nicely browned (you'll have to peak in order to see).
- Slice like a pizza and serve.
Posted by dowdy at
10:26 AM