A plated dish
This year, we decided to do one individually plated dish. We've never done this before, but I'd been meaning to try out a varient of this particular dish for a few years now. The basic idea was rare seared tuna, sliced, with some smaller side dishes to go with it. We served this as part of the "fish" course (these dinners are broken up into apps, fish, mains, and deserts).
Carol had given me the idea of doing something called "Steak and Eggs" and I decided to go in a sort of Thomas Keller direction and play with it. The idea was to have things on the plate that might mirror or suggest a dish of "steak and eggs" that you might get at a diner. But, of course, the flavors wouldn't be just something like that.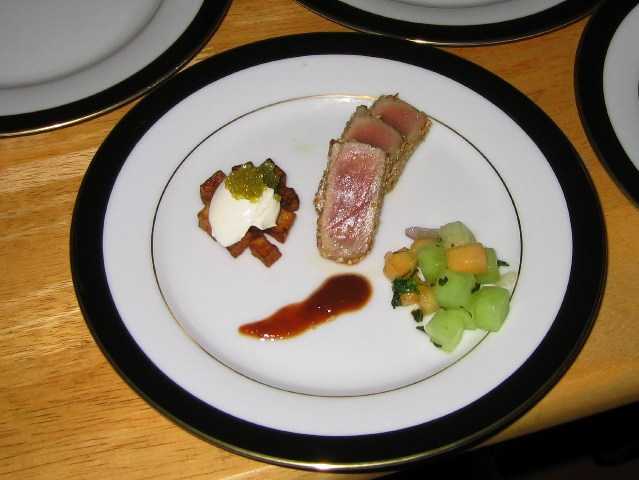 "Steak and Eggs"
The components are:
- rare seared sushi-grade tuna, coated with salt, pepper, and sesame seeds
- a melon "salad" with red onion, mint, and vinegar
- "steak sauce" made with raisins, shallots, tamarind paste, brown sugar, and orange juice
- "hash browns" topped with crème fraîche and wasabi caviar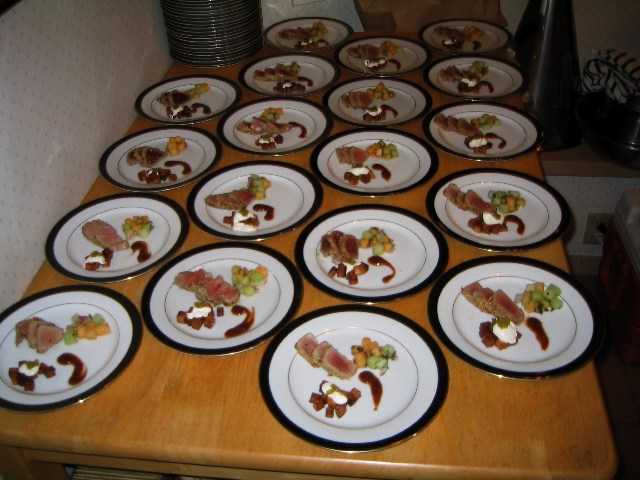 "Steak and Eggs", half of the plates
We made up 35 of these plates in two waves. Each person in the kitchen was on one or two of the parts to the plates and we rocked the out assembly line fashion. It was a lot of fun to do one dish like this -- not sure that it would be fun or practical to do this every year, or for more than one. But it was a nice change of pace to be able to plate individually. Sometimes the platters can get a bit "plain" looking out of pure necessity.
Posted by dowdy at December 22, 2004 12:49 PM