Fish, 2004
For the rest of the "fish" courses, we did two vegetarian dishes.
First up, was a stew of winter vegetables (calliflower, celery root, small squashes) to which we added harissa (a hot pepper puree) and some green olives. Some baby eggplants were sauteed for around the dish. We didn't want the eggplant in the stew for fear they would have become mushy. In keeping with the Mediterranean theme of this dish, we served it over large cous cous, and with a side of additional harissa (for those who like it hot), and a cucumber/yougurt sauce (for those who do not).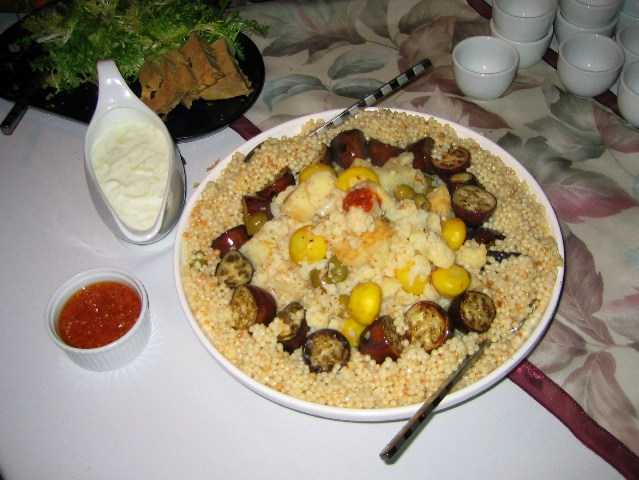 Winter Vegetables with Harissa
This stir fry was simple in ingredients -- fennel, onion, bell peppers, zucchini -- but they were sliced perfectly thin and consistant as part of the prep work. Tons of effort, and the results show it! Just a quick stir fry before service.
The sauce was a beurre blanc made with a blood orange reduction. "Sauce Maltaise" is a hollandaise sauce traditionally made with blood oranges, and called that because Malta is the original source of blood oranges. I've made this type of reduction before and used it with shrimp to good results.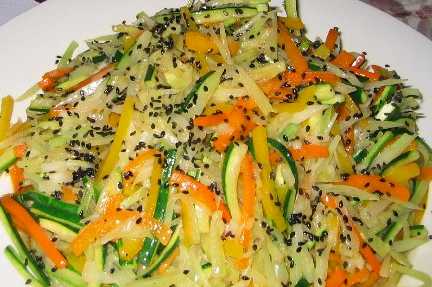 Maltaise Style Stir Fry
And finally, one of two risottos that we made this night. The stock was made with the trim from the scallops, plus shallots and thyme, along with a lobster stock that I'd had frozen previously, plus water from re-hydrating a handful of lobster mushrooms. The lobster mushrooms themselves also were chopped up and went into the risotto. The mushrooms, along with bright red lobster butter at the end, helped to color the risotto a wonderful shade of redish brown.
Development of this dish started the day after the last party. The trim from scallops was left over, and so I made a risotto starting from that point. I knew that for a real dish I'd have to have actual scallops on top, and added the lobster mushrooms and lobster butter late in the development process. I'd had a lobster risotto at Capo in Santa Monica that had been colored by lobster butter.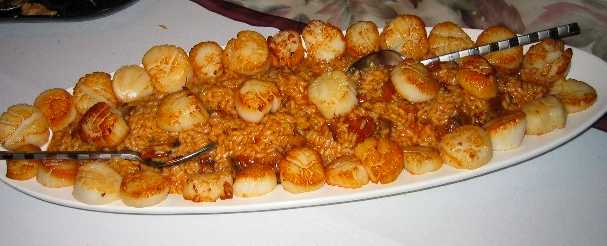 Scallop and Lobster Risotto
Posted by dowdy at December 23, 2004 01:04 PM