French wine rematch
There's lots of theories about the results of the famous 1976 Paris wine tasting. But if nothing else, it did bring California wines into the world scene. I'm sure many think that the results are more because of flukes or marketing or just plain dumb luck on the part of the Americans.
Kinda neat, because Ridge is about 10 miles from my house (albeit up one of the smallest and winding roads you'll find in California).
Posted by dowdy at
11:11 AM
Best Ride at Disney
anne and I went to Walt Disney World. On the way back, we were discussing which ride was our favorite. I think for me it was Mission: Space. Lots of fun, and I'm not sure what all of the fuss is about -- I'm prone to motion sickness, but didn't feel even remotely light-headed. It was overall a neat ride, even though we only rode it once. Everest was also fun, but not worth the heat and humidity of Animal Kingdom to get there.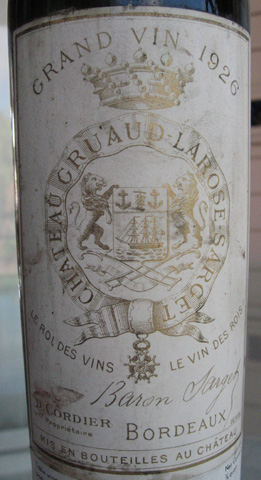 But my favorite ride just has to be the Wine and Steak Ride.
Okay, so that isn't at Disney. It's Bern's Steak House in Tampa. We went there the day after we got back from Disney. Bern's is an old-school place. Sort of what someone might have thought was "fancy dining" back in the 1950s. Viewed this way, it's just this side of tacky. But if you get yourself into the right mindset, the interior is then fun, the extra food doesn't bother (just don't eat all of the soup or salad), and the separate booths for desert and after dinner drinks are charming.
However, you shouldn't be there for any of the above. Bern's is really about two things: steak, and wine. The steak is a selection of cuts from the strip sub-primal (filet, strip steaks, porterhouse, and other related cuts). They offer both aged and non-aged versions, and have an exact cooking chart with many exacting degrees of doneness. More importantly, their grill guys have been doing this so long that they can actual pull off the precision. anne and I both got aged 10 ounce Chateaubriands, with hers having a cool center and mine a slightly warm center. And that's exactly how the steaks were cooked. Oh yeah, they also have a wine cellar.
It's hand-down the largest wine list I've ever seen. It must be the largest in the States. I can't imagine any larger in the world, but I suppose it's possible. I've been told that they have 5 warehouses in the Tampa area to hold the back-catalog for the list. While it's fun to go through the list yourself, this one is really so large that that's hard to get your own head around. Time to call on the wine guy!
We gave him a country: France. A grape: cab-based. An age: "something with age on it." And a price range: well, never you mind. It was expensive, but was not the most expensive wine I've ever bought, nor was it out of line for what we ended up with. A 1926 Chateau Gruaud-Larose-Sarget. This is a "super second" growth that Bern's managed to buy up a whole bunch of about 30 years ago. Did I mention that the cellar also has lots of old wine? 1926! Holy Cow! We would have never in a million years thought to try to get wine that old. That's older than me and anne put together!
What's drinking an old wine like that like? It's hard to describe. It was in very good shape, with red only slightly tinged towards brown. The flavor had cedar or other aromatic wood notes, and as the wine started to open up, there was actually fruit like cherry, and even a bit of tanins left. I'll never again in my life probably drink wine that old -- but it sure was a neat ride even once.
Posted by dowdy at
06:11 AM