Mushrooms and Artichokes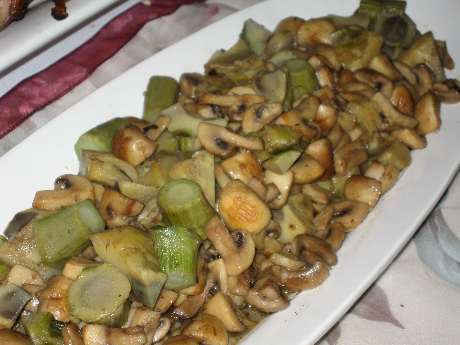 Mushrooms and Artichokes
This dish is, I think, a pure creation of mine. It follows a common pattern of mine, things shaped the same way. I used this concept in "Vegetables Pointy and Round".
- Artichokes
- Mushrooms
- Sage (rubbed)
- White wine
- Light vegetable stock or light chicken stock
Clean the artichokes and pare down to the hearts. Keep in lemon/water to prevent browning. Simmer in salted water until just tender. Shock in ice bath to cool, then cut into "wedges" about the size and shape of a quartered mushroom. You can also use frozen artichoke hearts for this, but the shape isn't quite the same. Still tastes good, though, and avoids an hour of painful knifework.
Quarter mushrooms. The clever chef leaves this task for himself and assigns the artichoke duty to others. Hi, Tim and Derrick!
For service, sautee the mushrooms in clairified butter until brown, add artichoke parts and re-heat. Add salt, pepper, sage. Add white wine, reduce a bit, then add stock, and reduce again. You want a light glaze/coating of sauce rather than pools of it.
Posted by dowdy at December 27, 2005 07:58 AM