Lamb with Winter Vegetables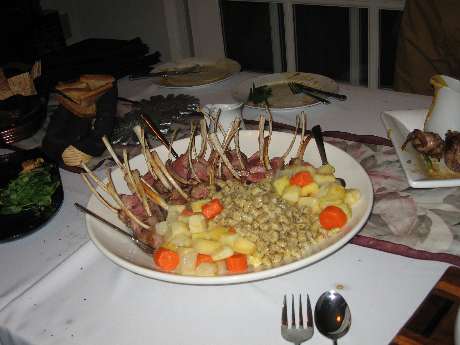 Completed Lamb Plating
The original idea for lamb, vegetables, and mustard spaetzle came from Charlie Trotter. I've made this so many times at this point that I think of it as one of "my dishes" however.
William, like every year before, took for himself the task of cleaning the lamb. He is an expert at it, and has (justifiably) great pride in how clean the bones come out. The trim from the lamb with more meat than fat is browned, and then reduced with red wine (we used an entire bottle of Pinot this year) and oxtail stock. If you have oxtail glace (which I do), add that to the stock as well to make it nice and thick. You can clean the lamb and make the sauce the day before (like we did).
For the vegetables, cut up whatever winter vegetables into whatever shapes you like. I think this year it was: turnips, rutabega, parsnips, celery root, and carrots. Blanch each vegetable separately in salted water until just shy of done. Shock in ice water and hold for service. If you do them from white to yellow to orange, you can use the same water.
The mustard spaetzle is any spaetzle recipe you like with the addition of whole grain mustard. Boil the spatzle (this year we formed them by piping out of a bag with cutting with a knife, but in the past we've done it with a pie tin with holes poked in it) and then cool on an oiled sheet pan. Again, hold for service.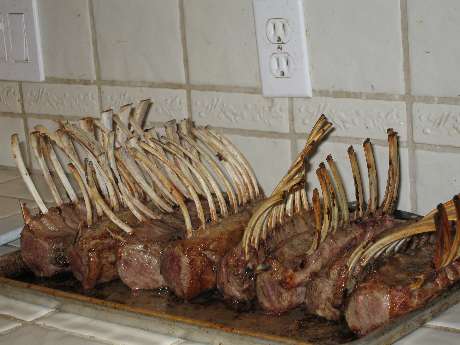 Resting the lamb before service
To cook the lamb, salt and pepper each rack. Cook on the stovetop a few minutes on each side for color. Roast in a 375 oven for 15-20 minutes or until desired level of doneness is reached. Allow racks to rest for at least ten minutes, and then slice into individual chops for service.
We used a large roasting pan because there were 8 racks of lamb. For more normal sized dinners I usually just move the sautee pan directly into the oven and cook them there.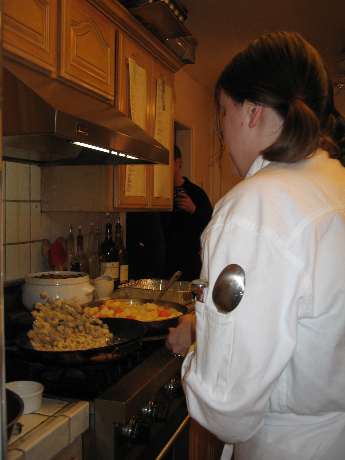 meriko prepares the lamb sides
While the lamb is resting, re-heat and taste the sauce. It should be quite strong and heavy. If not, reduce more. The vegetables get a final cooking in butter, salt, and pepper. In another pan, the spaetzle are reheated in still more butter (please keep in mind who's blog you are reading here). Check out the airtime meriko is getting on that spaetzle! And all that without a special pan.
Posted by dowdy at December 28, 2005 07:58 AM