Mains, party of the third part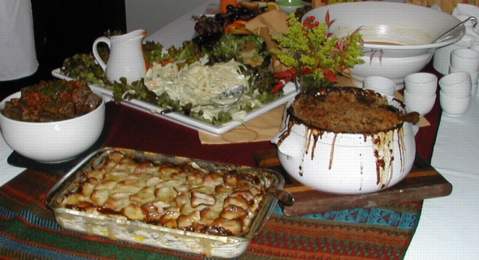 Boeuf Bourguignon, Truffled Potato Gratin, Wild Mushroom "Cassoulet" (left to right)
The first set of mains consisted of things we could do either in the oven, or ahead of time. The gratin and cassoulet cooked in the oven while the fish courses were being worked on. The beef we made ahead and kept hot in a cooler along with the reduced sauce. We could have re-heated it if needed, but it was honestly warm enough without that.
The potato gratin is a favorite of mine due to the simplicity of it. Just sliced potatoes, salt, pepper, and heavy cream to cover. Bake in a 350-375 degree oven until the potatoes are soft. Place a sheet pan under it in case the cream boils over. To make this version more fancy, we placed a layer of black truffles mid-way through the potatoes, and also hit the top with truffle oil pior to putting it on the table.
I wrote about potatoes before.
You can read about the mushroom "cassoulet" here.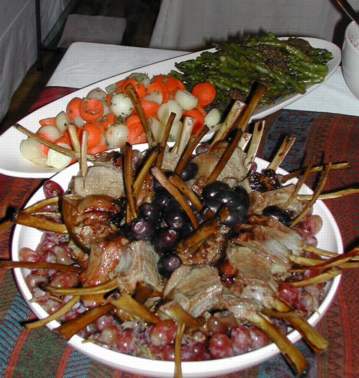 Vegetables Pointy and Round, Cherry Smoked Lamb Racks (back to front)
Vegetables pointy were asparagas tips and morel mushrooms, cooked in a white wine and dark vegetable stock. Vegetables round were turnips and carrots attacked with a melon baller and cooked in light vegetable stock, vermouth, and garnished with lemon thyme. This isn't much work for a dinner for two or four people, but for a party of this size, Derrick had lots of "fun" prepping all of the vegetables.
The lamb was smoked at 350-375 in a smoker with lots of cherry wood chunks. Took it to around 120 degress internal temperature, let it rest for 15 minutes and then cut and served. The sauce was a simple reduction of Pinor Noir, lamb trimmings, and oxtail stock. Note William's cool use of two kinds of grapes in the plating!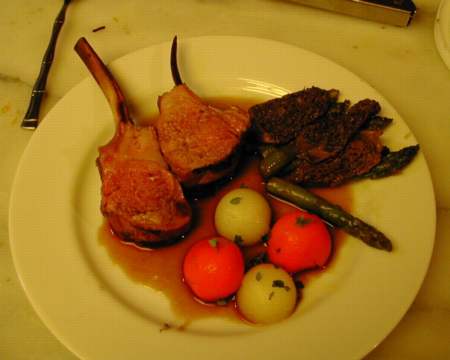 Lamb, Vegetables, and Sauce -- single serving plate
Here's how I more normally serve this dish on a single plate. We didn't do any fancy plating for the party, but wanted to grab at least some things in case the guests inhaled everything before those of us in the kitchen could eat.
Posted by dowdy at December 11, 2003 08:06 AM