Fish, party of the second part
This dinner was light on prep in that we easily got the setups ready well in advance of the guests. But as I theorized to the sous chefs, the cooking was going to turn intense. We had a large number of dishes that needed lots of burner time.
Once again, I was impressed beyond measure with the help. The vision of the dishes was produced by hands other than my own. I can't even begin to describe what cooking with these folks is like.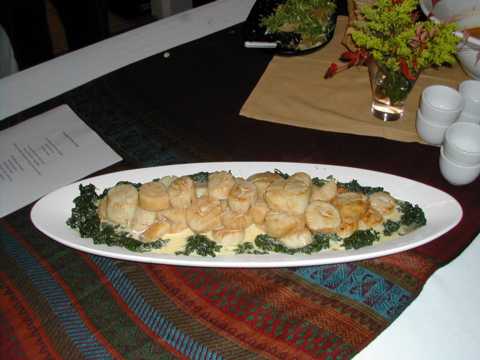 Scallops in Vanilla Saffron Cream
Gone in five minutes. Really. Several people were impressed by the idea, but the reality is that this is a new American Classic. I really just did a minor riff on it. However, we really did execute it very well. Not a single chef got to taste the completed dish -- it went that quickly.
The scallops (really huge 12 count ones) were pan seared in clarified butter for 3 minutes or so until just cooked through. Around them, spinach cooked with shallots until wilted. The sauce, a flavored butter/cream sauce.
The base of the sauce was reduced stock (I used a light chicken) and cream, to which whole/split vanilla beans and saffron were added. Then butter was whisked in and the resulting sauce poured into a thermos to keep for service. Beurre blanc type sauces keep in this manner for up to two hours, which really helps with the plating.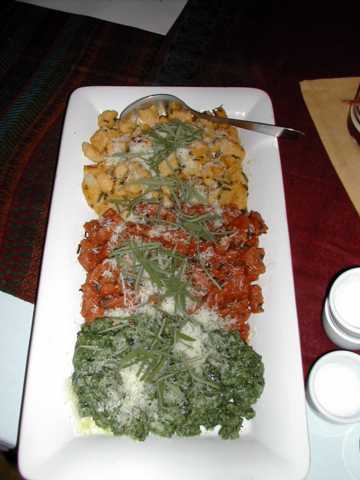 Trifecta of Gnocchi
Three flavors: sun dried tomato, butternut squash, and spinach. These had been made a week before and frozen. During prep we boiled them until they floated and then shocked them in ice water. Oiled and bagged into the fridge until ready for service.
Each was pan-fried in clairified butter along with sage leaves. Plating was additional sage and parmasagn cheese. Pretty simple stuff, but they turned out quite well.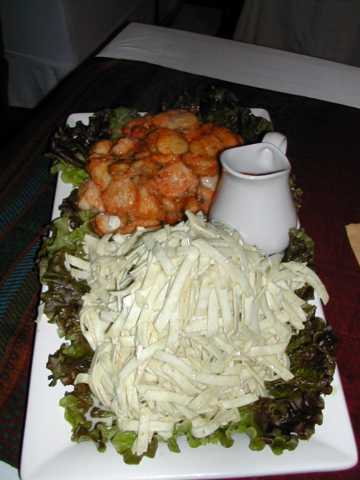 Buffalo Monkfish and Maytag Blue Cheese Celery Root Salad
Called "fiendishly clever" by a guest, this is another forray into what I call High/Low food. I take a traditional dish (in this case, Buffalo Chicken Wings) and recast it as something fancy.
This was an idea brewing for the past three years, and twice I thought about doing it, and rejected the idea. Finally, I just went for it. Monkfish is an excellent fish for medium/pan frying. We first sliced the fish into "medallians" as one would a pork tenderloin. Just before cooking, we gave it a flour coating that contained ground poultry seasoning.
The sauce was a combination of Frank's Hot Sauce, tomato paste, and butter. We mixed them in a beurre blanc fashion, and kept the heat level down in order to keep things "fancy." The tomato paste helped keep the color while not adding too much heat. We ran up the sauce ahead of time and placed it in a thermos to stay warm. The finished monkfish was tossed in a bit of the sauce, and the remainder of the sauce was served on the side.
Since Buffalo Chicken Wings are traditionally served with blue cheese dressing and celery sticks, I used a varient of this. Celery root was shaved into 1/4 inch "noddles" and dressed in a remoulade sauce (oil, lemon, mustard) to which we added about a quarter of a pound of smashed Maytag Blue Cheese. The salad was prepared several hours ahead -- this is a requirement in order for the celery root to "cook" in the lemon.
For the plating, I kept it to the tradition and served everything on a bed of leaf lettuce. As one guest mentioned -- "I get the joke." But joke or not, this dish turned out amazing and I would easily make it again. It was my worst fear going into the dinner, and also the most resounding success.
Posted by dowdy at December 10, 2003 03:51 PM