Appetizers, party of the first part
The party was (as usual) an amazingly good time. I had three folks helping me out this year in the kitchen, William, Derrick, and Tim. And, as always, Carol did a stunning job with the decor. Every year, we get more and more organized, and I now instinctively trust everyone. A minimum of words and guidance are needed.
The party starts off slow and calm with the appetizers set out as the guests begin to arrive. Wine is poured. Chairs and tables found. Slowly plates and silverware begin to be pressed into service -- the madness is on!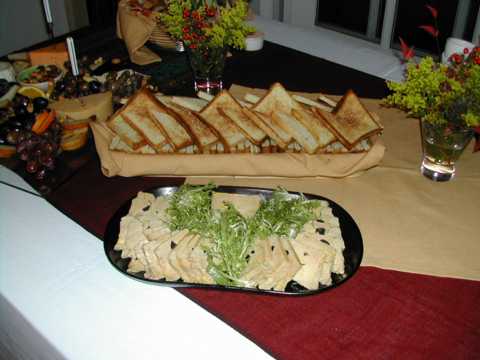 Foie Gras, Pain de Mie, and Cheese Tray (front to back)
I can't recall all of the cheeses this year, but do remember one was "Roaring Fourties" (a blue from Tasmania) and another "Chimay Washed Rind Cheese." The fruit and cheese tray also featured Spicy Rosemary Mixed Nuts.
The foie is my fairly standard terrine, studded with truffles. This year we served it with a frisee salad tossed in truffle oil, and toasted pain de mie. The supplier was Sonoma Foie Gras, which has been taking quite a bit of heat recently, so I figured I would support them.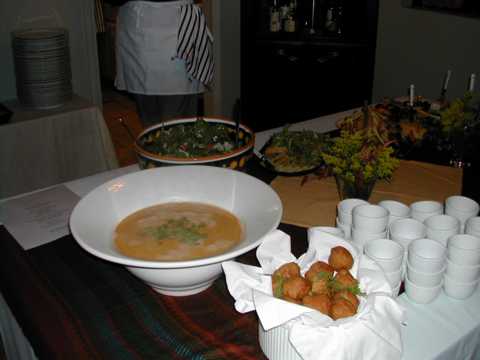 Strawberry Salad, Crab Bisque, Old Bay Beignets (back to front)
The Strawberry Salad was baby spinach, small dice of English Cucumber, vertically sliced strawberries, and matchsticks of jicama. We tossed them all in a basic oil and lime vinegarette. This actually works best with strawberries that aren't super great and in season. I think that lame strawberries kind of taste like cucumber, which is why I included the cucumber.
The crab bisque was mostly made the weekend before and frozen. I used Dungeness crabs because I'm on the west coast. Right before service we re-heated the soup and added heavy cream. We then whisked in the crab butter. Garnish was chervil leaves. Along with the bisque we served savory beignets (a kind of doughnut) flavored with Old Bay seasoning (a seasoning blend popular with shellfish that has a heavy celery flavor). For the liquid we used Dixie beer, because both bisque and beignets are popular in New Orleans.
Posted by dowdy at December 9, 2003 07:52 AM