Dueling Souffles
Every year there is at least once insane thing we decide to do. This year it was individual plated souffles. Of course, just doing one wouldn't be crazy enough, so we did two different models: 1) Mussel Souffle with Saffron Chardonnay Sauce, and 2) Stout and Cheese Souffle with Frisee Salad.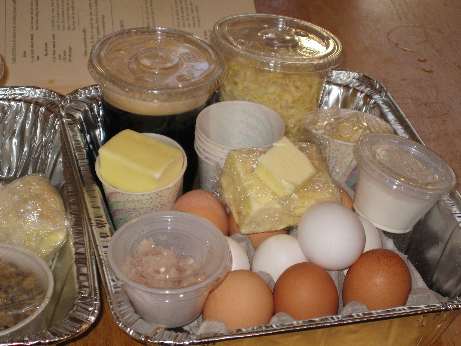 Mis en Place for One of Two Souffles
This is a pretty good shot of how we organize all of the dishes. Each dish has prep that goes into it, and everything that needs to be measured out is placed into its own container. When needed, the parts are labelled as well. When it comes time to cook, everything is there. By the end of prep, the pantry is completely full of half and full sized disposable hotel pans holding all of the parts for every single dish. Once the party starts, there really is no more chopping or cutting that needs to happen, except when finished meats need slicing.
Savory souffles aren't very difficult, and certainly not as hard as most people make them out to be. Here's the base recipe (for 1 6-8 cup souffle dish, or about 12 3 oz ramikens, we doubled this for each kind, and made a total of 50 3 oz souffles):
- 1/2 stick butter
- 5 Tb flour
- 1 C liquid
- 4 egg yolks
- salt, pepper, seasoning
- 1/2 C solids
- 5 egg whites
1) melt butter, add flour to form roux. Add liquid, bring to boil and thicken (will be quite thick).
2) Remove from heat. Add seasonings, allow to cool a bit
3) Whisk in egg yolks, making sure not to cook them.
4) Whisk/blend in the solids.
5) Cover and hold until service time (can be several hours)
6) Butter well your souffle mold or ramikens
7) Heat oven to 375
8) Whip egg whites to medium peaks
9) Fold in egg whites to base mixture
10) Spoon into molds, bake for 20-30 minutes or until the centers are well set.
11) Serve right away.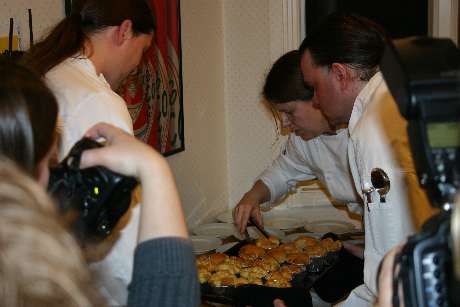 Out they come!
For the mussel souffle, we used the cooking broth from the mussels for the liquid, and well chopped mussel meat for the solids. The sauce was reduced saffron, lemon juice, and Chardonnay. Some heavy cream was added and then additionally reduced. The sauce was drizzled over the top of the souffles via a squirt bottle.
For the stout souffle, we used Guiness as the liquid, and sharp cheddar cheese as the solids. We also added some shallots to the base for additional flavoring. Frisee was dressed simply with a mustard vinaigrette, and a small amount placed on each plate.
We used disposable foil ramikens this year. They are cheap, easy to throw away when done, and have nice vertical sides. The downside is that they don't look as nice, and do not hold heat, so the souffles will deflate quite rapidly.
We cooked the souffles in two batches, with half of each kind in each batch, starting them about 10 minutes apart. In this way, we could bring out the courses quickly, and then make another pass through with more souffles for people who missed out, or maybe even wanted a 2nd one of the other kind.
Also, you may notice that while plating we had three cameras taking pictures, and two of them were pretty high powered!
Posted by dowdy at December 20, 2005 01:06 PM