Lobster Rolls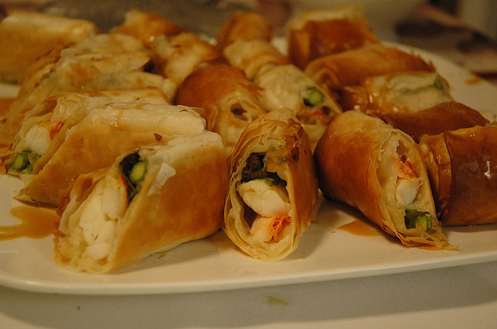 Finished Lobster Rolls
For the rolls (per each roll):
- 2 sheets filo dough
- clairified butter
- 1/4 lobster tail (cooked until slightly underdone, cut lengthwise)
- 1 stalk trimmed asparagas
- 2 morel mushrooms, halved
- sprig chervil
- 1/4 tsp chopped shallots
Brush filo sheet with butter, place 2nd sheet on top, brush half with butter, fold over (final will be 4 sheets of filo with butter between each). Place remaining ingredients together in a single line at buttom of filo sheet. Fold 1 inch filo up and over filling. Brush filo again with butter. Fold both edges in, then roll filo (as when making a burrito). Place into tray, brush with butter and hold.
To bake: 400 degree oven for approximately 15 minutes, or until golden brown. Slice on bias and serve with Sauce Americaine.
For the sauce:
- 2 C lobster stock
- 1 C heavy cream
- 1 lb lobster butter
- 1/2 lb butter
Reduce stock until quite strong. Add cream, reduce to desired consistancy, or slightly more runny. Whisk in lobster butter and regular butter over low or no heat as when making a beurre blanc. Do not return to additional heat or sauce will break.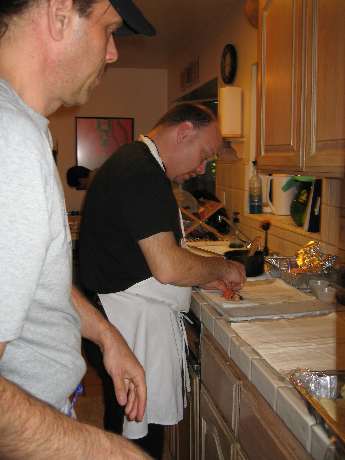 Two people (in this case Tim and William) made rapid work of this repetative task (we made 24 of these). These rolls are an excellent make-ahead dish because while they take time during prep, they are then all ready to go during service. Notice as well their workstation, with all ingredients in place, and a final pan ready to receive the completed rolls.
Posted by dowdy at December 21, 2005 02:31 PM