Fill your smoker with meat

That's a lot of meat, sir
The first image (taken by Melissa) from this year's summer party could be entitled "Pack your smoker with six dozen slabs of meat." This is a fun game that everyone should play, although you need to invite over a few guests to help you dispose of the remains. Either that or eat leftover BBQ for the next several months.
From top to bottom we have:
- 3 pounds of homemade bratwurst (smoked for two hours)
- 4 slabs of pork ribs, trimmed to a Saint Louis Cut, rubbed with my standard BBQ rub (see below)
- 2 slabs of beef ribs, rubbed with salt, black and red pepper
- 4 trimmed sides from the above mentioned pork ribs, same rub
- 2 whole beef briskets (13 pounds each), same rub as the beef ribs
- 1 Huge pot of beans, simmering away for the entire time, with meat juices dripping in for the last three hours of cooking. This is my standard addition to just about all smoker runs.
Started the fire at around 4 AM, and the coals were ready by 4:30. Briskets and the beans went in first, with the beef ribs and pork sides being added about 5 hours later, and the pork ribs an hour after that. The sausages only needed a few hours to cook through, so they went on around noon or so.
This is, in case you can't tell, quite a bit of meat for my smoker. I had a tough time keeping the temperature up, and also had a difficult time with the air circulation as a result. I normally never try to cram this much food into it, so it was an interesting challenge.
My standard rub is (I don't give quantities, since I have no idea what they are, but list in order of most to least):
- salt (maybe about a third of the total volume)
- ground black pepper
- onion powder
- garlic powder
- paprika
- cumin
- chilli powder (dark)
- ground oregano
- ground red pepper
I mix all of this up in a large leftover spice container, and it's good for probably three or four BBQ runs. I know that many people use sugar in their rubs, but I've found that for longer smokes, it's too easy for them to burn on me. I don't have the heat on this rub too high, so the sugar doesn't really seem needed.
More images and recipes from the party are forthcoming. But until then, I leave you with "Your Moment of Zen." William and two helpers doing the 2nd grind on the sausage meat (4 lbs beef tri tip, 2 lbs pork butt, 1/2 lb bacon). And yes, anne is in fact holding a beer while working.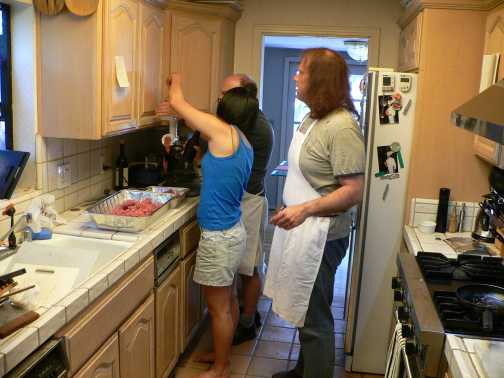 Never watch how laws are made
Posted by dowdy at July 4, 2005 09:53 AM