Salsa Shark
"Salsa Shark. Man goes into cage. Cage goes into water. Shark's in the water. Our shark. We need a bigger boat." -- Clerks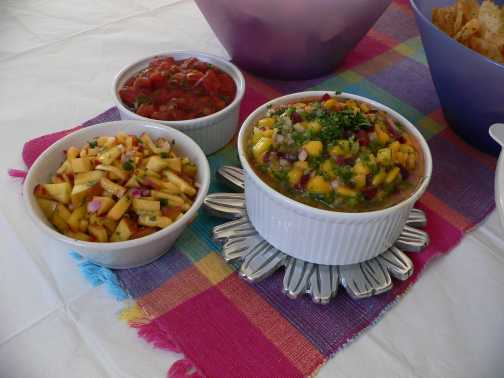 A trio of salsas
Salsas always make a nice side for BBQ. This year I made a bunch, and sort of got carried away with the flavors. They all turned out good, however. Clockwise from top: tomato salsa, mango salsa, nectarine salsa.
The tomato salsa had tomatoes, serano peppers, green onions, cilantro, and lime juice (ie, a basic salsa). Canned tomatoes had to be used as those I found in the market were disappointing.
The mango salsa was mangos, jalapeno and serano peppers, maui sweet onions, cilantro, mint, and lime juice. In addition, some chopped sweet fresh cherries were also added.
The nectarine salsa was nectarines, habanero peppers, red onions, cilantro, and wine vinegar.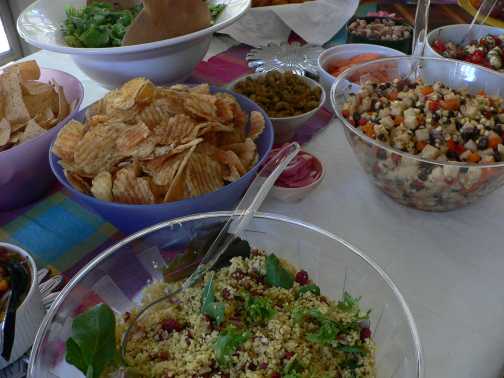 Who says salad is lettuce?
From top right to lower left, tomato and mozzarella, jicama salad, curry cous cous salad.
The tomato and mozzarella was a basic Italian style salad. We used grape tomatoes and bocconcini with thin strips of basil. Derrick whipped up a vinegarette of balsamic and olive oil.
The jicama salad was diced jicama, two kinds of bell peppers, red onions, fresh corn, and black beans. I made a quick dressing of lime juice with chilli style spices and a combination of olive and vegetable oil.
The cous cous salad was simply cous cous that had some curry powder added to the water used to re-hydrate it. After it cooled a bit, I added pecans, dried cranberries, red onions, and a quick toss of lemon juice and olive oil. I also mixed in some bitter salad greens to give things a bit of a kick.
Unseen is the potato salad that I made with lots of hard cooked eggs and mustard in the dressing (I don't like bland potato salad dressing).
At the top of the photo you can just see that yes, I in fact did have one salad made with lettuce. It was just greens, a dijon vinegarette, and some Maytag blue cheese. Oh yeah, and some croutons that I purchased! Oh no!
The other interesting sides just visible sort of in the middle are the pickled carrots (made with habanero peppers in the brine), and pickled red onions.
Posted by dowdy at July 5, 2005 04:04 AM