Quicker BBQ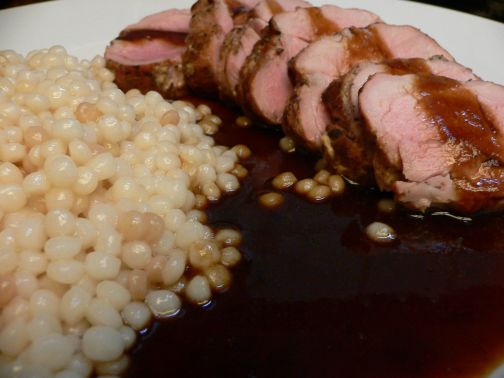 Smoked Pork Tenderloin, Carmelized Onion Sauce
I've been experimenting with faster forms of "BBQ" or smoking for use with more tender cuts of meat (ie, chicken breasts, pork tenderloin, loin steaks, etc). These cuts don't contain enough fat within the meat itself to cook at the low temeratures for the extended periods of time that "real BBQ" requires. But they sometimes do taste good with a smoke flavor.
Today I used a pork tenderloin, treated simply with salt and pepper and a light brush with a French mustard. I cooked it offset from the fire in a Weber grill, well away from the heat. Two large chunks of pecan wood provided the smoke. This method ends up being like roasting in an oven with the additional flavoring of the wood.
Total cooking time was just over 20 minutes, and I took the meat up to just a few degrees shy of a target of 140 F. A small piece of meat like this will have minimal carry-over (I wasn't watching during the resting, but I think this peaked at 143 or so), especially if you aren't cooking it directly over the flame. This temperature may be too rare for some of you, but I find that you can very easily overcook pork, so I prefer mine a bit less cooked than some. In any case, cook to the temperature that you prefer.
The sauce sounds impressive and is either easy or hard depending upon how you look at it. I took about a pint of left over French Onion Soup, strained the onions from it, and reduced over low heat until a syrup/sauce was reached. Really can't get much simpler than this, however, the input might not be something people have on hand:
- carmelize onions until very brown
- deglaze with white wine
- add 1/2 chicken stock, 1/2 oxtail stock
- S&P to taste
- thyme
- simmer for an hour or so
- re-season, brighted with a hit of cognac
I had made this at the tail end of our winter here in California. I couldn't just toss the rest, but it really has become too warm here for me to want to eat the rest as soup. Thus, this "instant" sauce was born.
The sweetness from the long-cooked onions worked very well with the pork. Often pork sauces have more direct sugars in them (in the form of fruit), but this was much more subtle and not sweet enough to be annoying to me.
Posted by dowdy at May 22, 2005 07:47 AM