Hot & Cold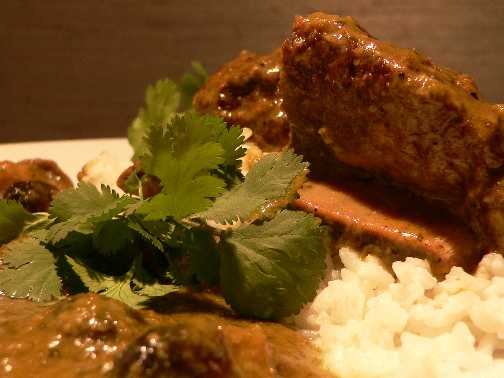 Short Ribs in Green Curry Paste
The weather was strange here over the weekend (a mixture of warm in the day with cold and sometimes rainy nights). I decided to do a strange mixture of a dish to go along with that.
Braised Short Ribs (traditionally a winter dish) in a Spicy Thai Green Curry Paste (a dish I personally enjoy during the summer months).
- 6 short ribs, trimmed of all fat. Salt and Pepper, Brown well on all sides.
- Add curry paste (see below), water to just come to the tops of the ribs, cover and simmer slowly until tender (2-3 hours). Uncover and (if needed) reduce liquid until desired thickness is reached.
- Add vegetables (I used baby canned corn and straw mushrooms, just because that's what I usually do). Cook another 10 minutes.
- (Optional) Add 1 can coconut milk. Cook until warmed and reduced as needed.
Green Curry Paste
- 2 serrano or thai bird chilies, deseeded
- 4 anahiem chilies, deseeded
- 1 bunch green onions
- 1 T minced ginger
- 1 T minced garlic
- 1 T commerical curry powder
- 1 T ground cumin
- Juice of 1 lime
- 1-2 T fish sauce
- 1/2 bunch cillantro
Grind in a food processor until very smooth. I add the ingredients in the order listed and try to get a good chop before adding the liquid ingredients. I add the cillantro at the end to avoid completely destroying it.
Posted by dowdy at May 16, 2005 07:51 AM