Before we get to dessert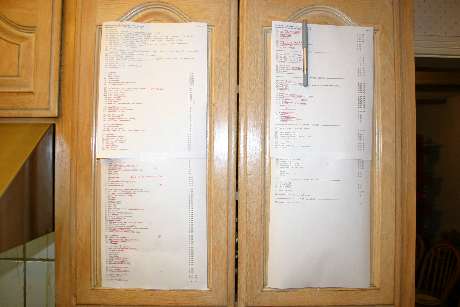 Did we really do all that?
Here's one of the secrets to how we do this dinner. 4 pages of prep lists. Each task has a code number for which dish (the list of dishes and numbers is at the top of the prep list for reference), a brief line about what needs done, and an approximate time when that task should start. As the day goes on, we simply work down the list, task by task, crossing items off, until everything is ready to go. The above picture was taken right before the guests began to arrive, or maybe just after the souflees were served.
Some items like "10) pull from fridge" take 30 seconds to complete. Others, such as "17) make dobos sponge" which involve the separating of 30 eggs and baking the sponges in 4 batches in the oven can take over an hour to finish. I put lots of little things that I know I'll forget, such as "12) LIGHT FIRE". Since we started using this method, there have been very few things forgotten, even in the heat of battle.
If for some crazy reason you want to see all of the prep lists, they are in the full entry. Oh, and "MEP" is shorthand for "Mis en Place" which means to gather together everything you need.

1) gougères
2) foie gras, pain de mie, watercress salad, truffle oil
3) butternut squash soup, pumpkin seed oil
4) stout, sharp cheddar, onion souflee with fuzzy salad, basic vinegarette + shallots
5) mussel souflee with meyer lemon, saffron, chardonay cream sauce
6) strawberry salad with jicama, spinach, cukes, light vinegarette w/ lime
7) lobster rolls with sauce americaine
8) veg gnochi, summer squash, zuk, red onion, small tomatoes, basil chiffinade
9) mahi mahi with lime ginger cream
10) curried cauliflower gratain
11) sorbet
12) stuffed grilled quail (sliced proshutto, bread cubes, porchini, brun. MP, lemon zest), 
    asparagas, sauce foyot
13) artichokes and mushrooms in white wine sauce
14) wild mushroom cassoulet
15) racks of lamb with mustard spatzle, winter vegetables, and reduced red wine sauce
16) green beans with hazelnut beurre blanc
17) dobos tort X 2
18) fruit tart X 2
19) Clafouti/far X 2 (cherry/prune)
20) chocolates X 3





2) make foie                                                                    THURS

3) make soup                                                                    THURS

8) make gnocci                                                                  THURS

11) make sorbet                                                                 THURS

20) 3 brothers                                                                  THURS

20) white chocolate fruit bark                                                  THURS

20) coffee truffles                                                             THURS





11) sorbet into sake cups, into freezer                                         FRI

14) smoke red bell peppers                                                      FRI

14) make brown sauce                                                            FRI

15) prep lamb racks                                                             FRI

17) make dobos sponge                                                           FRI

18) pate brisee                                                                 FRI

18) pastry cream                                                                FRI

14) soak beans                                                                  FRI PM

10) make and put into pan day before                                            FRI PM





17) make butter cream                                                           AM

17) make carmel and pinwheels                                                   AM

17) assemble torts                                                              AM





18) pre-bake shells                                                             AM

18) apricot jam                                                                 AM

18) diplomat cream, fill tarts                                                  AM

18) fruit and glaze tarts                                                       AM





19) drain cherries                                                              AM

19) soak prunes                                                                 AM

19) MEP batter X 2                                                              AM

19) MEP powdered sugar into cheesecloth                                         AM





0) shallots                                                                     AM

0) clairified butter                                                            AM

2) make pain de mie                                                             AM

1) MEP all ingredients                                                          AM

6) cut veg for salad                                                            AM

6) make vin                                                                     AM

7) prep lobster                                                                 AM

7) soak morels                                                                  AM

12) re-hyrdate porchini                                                         AM

12) make stuffing                                                               AM

12) stuff quail, pick                                                           AM

13) prep artichokes                                                             AM

13) cook artichokes, cool, slice                                                AM

13) 1/4 mushrooms                                                               AM

13) MEP white wine, herbs, light veg                                            AM

14) cook beans                                                                  AM

16) prep beans                                                                  AM





12) set up fire                                                                 noon

7) chervil                                                                      noon

7) defrost lobs stock & reduce                                                  noon

8) defrost gnocchi                                                              noon

12) MEP sauce foyot                                                             noon





12) prep asparagas, foil for cooking                                            2 PM

8) check gnocci (defrosted and non-sticking)                                    2 PM

8) cut veg, assemble entire MEP                                                 2 PM

5) cook/clean mussles, chop                                                     2 PM

5) MEP base                                                                     2 PM

4) MEP base                                                                     2 PM

4) separate eggs                                                                2 PM

5) separate eggs                                                                2 PM

9) prep fish                                                                    2 PM

9) prep veg                                                                     2 PM

9) prep seasame seeds & cornstarch                                              2 PM

9) MEP sauce                                                                    2 PM

9) MEP soy, butter for veg                                                      2 PM

9) MEP garnish                                                                  2 PM

14) prep & sautee mushrooms                                                     2 PM

14) prep & sautee MP                                                            2 PM

14) bread crumbs                                                                2 PM

15) defrost stock and reduce w/ wine                                            2 PM

16) MEP beurre blanc                                                            2 PM

15) prep veg, blanch and shock                                                  2 PM

7) asparagas ends, sliced, blanch and shock                                     2 PM

16) blanch and shock beans                                                      2 PM

15) make spatzle, shock, oil, hold                                              2 PM





14) assemble                                                                    3 PM

10) pull from fridge                                                            3 PM

7) make rolls, oil well and hold                                                3 PM

12) S&P quail, butter                                                           3 PM

15) S&P lamb                                                                    3 PM





14) 1st bake                                                                    4 PM

1) make pate a choux & into bag                                                 4 PM

2) cut pain de mie                                                              4 PM

2) clean salad                                                                  4 PM

4) make base                                                                    4 PM

5) make base                                                                    4 PM

4) prep souflee dishes                                                          4 PM

5) prep souflee dishes                                                          4 PM

4) MEP salad, vinegratte                                                        4 PM

5) MEP/reduce sauce base                                                        4 PM





1) pipe onto parchment                                                          5 PM

1) oven to 425                                                                  5 PM

9) reduce sauce & hold                                                          5 PM





2) toast pain de mie                                                            5:30 PM

3) re-heat soup                                                                 5:30 PM





1) bake 15 mins/serve                                                           5:45 PM

1) kir royal glasses and cassis                                                 5:45 PM

2) toss salad w/ truffle oil                                                    5:45 PM

2) cut/plate/serve                                                              5:45 PM

2) cheese out                                                                   5:45 PM

3) cream soup                                                                   5:45 PM





16) make beurre blanc & thermos                                                 6 PM

3) serve soup w/ pumpkin oil drizzle                                            6 PM

6) toss and serve                                                               6 PM

10) cheese topping                                                              6 PM





======================= 6 PM APS OUT ===================





4) egg whites, toss, bake                                                       6:15 PM

5) egg whites, toss, bake                                                       6:15 PM

4) 400->375 for 15-20 mins                                                      6:15 PM

5) 400->375 for 15-20 mins                                                      6:15 PM

5) reheat & cream sauce                                                         6:15 PM





4) toss salad                                                                   6:30 PM

4) plates out, salad down                                                       6:30 PM

5) plates out, ready for sauce                                                  6:30 PM

4) serve                                                                        6:30 PM

5) sauce and serve                                                              6:30 PM





======================= 6:30 PM SOUFLEE SERVICE ===================





10) oven to 450                                                                 6:30 PM

7) 450 degrees, 10-15 mins                                                      6:30 PM

7) heat stock, cream, reduce mount with butter and lobs butter                  6:30 PM

8) cook veg                                                                     6:30 PM

8) cook gnocci                                                                  6:30 PM

12) LIGHT FIRE                                                                  6:30 PM





7) plate and serve                                                              6:45 PM

8) toss into plate, basil chiffinade                                            6:45 PM

8) serve                                                                        6:45 PM

9) mount sauce w/ butter & hold                                                 6:45 PM

9) cook veg                                                                     6:45 PM

9) cook fish (6-8 mins total)                                                   6:45 PM

10) bake 15 mins                                                                6:45 PM





10) broil 5 mins                                                                6:55 PM





9) plate and serve                                                              7 PM

10) serve                                                                       7 PM

12) grill/cook quail                                                            7 PM

14) top crumbs & 2nd bake                                                       7 PM

15) oven to 375                                                                 7 PM





======================= 7 PM ALL FISH OUT ===================





11) serve sorbet, platter, spoons                                               7:15 PM





12) make sauce foyot                                                            7:15 PM

12) asparagas on grill                                                          7:15 PM

13) sautee mushrooms, add artichokes                                            7:15 PM

13) sauce and reduce                                                            7:15 PM

 

12) plate and serve                                                             7:30 PM

13) serve                                                                       7:30 PM

15) brown lamb, 5 mins, into oven                                               7:30 PM

15) 15 mins                                                                     7:30 PM





15) rest and slice lamb                                                         7:45 PM

15) sautee veg                                                                  7:45 PM

15) re-heat spatzle in butter                                                   7:45 PM

15) reheat/adjust sauce                                                         7:45 PM

16) cook beans w/ shallots                                                      7:45 PM





14) serve                                                                       8 PM

15) plate and serve                                                             8 PM

16) serve                                                                       8 PM





======================= 8 PM ALL MEAT OUT ===================





19) oven to 400                                                                 8 PM

19) blend batter                                                                8 PM

20) make coffee                                                                 8 PM





19) bake 30 mins                                                                8:30 PM





19) powder sugar on top and serve                                               9 PM





======================= 9 PM ALL DESERT OUT ===================





20) serve chocolates & coffee                                                   9:30


Posted by dowdy at December 31, 2005 09:48 AM