Green Beans with Hazelnut Beurre Blanc
How to make a dish and not get any pictures.
1) Obtain 6 pounds of wonderful small French green beans. Have your mother cut the tops off them.
2) Prepare the beans correctly. Apparently, "Green Beans Done Correctly" is now Derrick and Melissa's description.
3) Make a beurre blanc and use some hazelnuts to provide color and flavor.
4) Plate beans, top with beurre blanc and serve.
Outcome: Entire plate eaten, no photographic evidence, even with 5 cameras at the party! I will admit, they were pretty darn good, at least the one bean that I got to eat.
I shouldn't feel bad because here's someone who didn't get any beans. Mark comes and works prep nearly every year, patiently taking on some of the more precise and exacting of tasks. He also almost always needs to leave due to prior commitments before he can taste any of the dishes!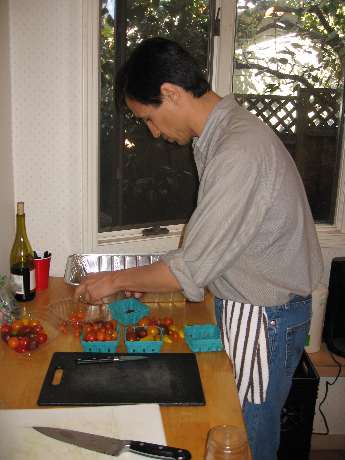 Mark carefully slices the cherry tomatoes
Posted by dowdy at December 30, 2005 09:17 AM