CousCous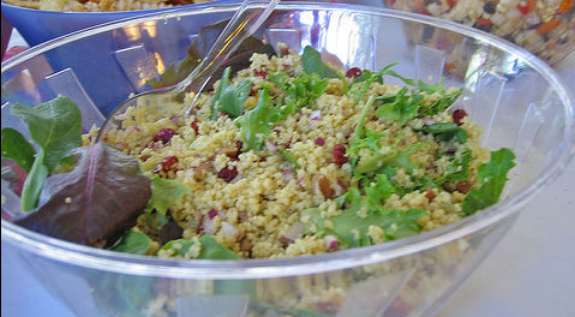 Cous Cous from a previous party
Sam asked me to post my recipe for Curry Cous Cous. I had made this for my summer party, and also brought it to the first Bay Area Food Blogger's BBQ.
- 4 C cous cous
- 4 C boiling water
- 3 to 4 T curry powder (you can make your own, or use some icky pre-made. I was lazy this time and used Sharwood's Hot Madras)
- 1 medium red onion, small diced
- 1/2 to 1 C nuts (I used pecan pieces, which I toasted ahead of time)
- 1/2 to 1 C dried fruit (I used cranberries)
- juice from 3-4 citrus fruits (I used a combination of 4 tangerines (from my stupid tree) and 1 lemon. My tangerines are very tart, so you can up the lemon amount if you wish.)
- 1/4-1/2 C olive oil
- salt & pepper
- Some amount of salad greens (I used baby spinach this time, but in the past have used some form of bitter greens)
Pour hot water over cous cous in a large bowl. Add curry powder + about 1 T salt. Stir to combine, then allow to sit until partially cool (about 10 minutes). Fluff. Mix in onion, nuts, and dried fruits. Fluff. In a separate bowl, whisk to combine juice, olive oil, salt and pepper to taste. When cous cous is mostly cool, add dressing and toss again. Shortly before service, mix in salad greens. Can be prepared several hours ahead and kept in the fridge.
Makes 1 large bowl to take to a party.

Posted by dowdy at
12:39 PM