Curry Cauliflower Gratin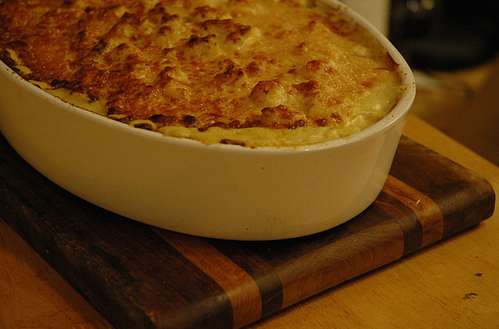 Finished dish
I got the idea for this dish from a vegetarian Indian restaurant that we go to at lunch. One day the side dish was a creamy curry cauliflower. It had great flavor and the offsetting flavors of the cream and hot curry really worked well together. I knew, however, that I didn't want a loose cream, but instead something that could more easily be dished and eaten. A gratin is a pretty obvious answer here.
A quick google turned up a Thomas Keller (good grief! not again!) recipe from Bouchon. I made some simplifications and modifications to it in order to incorporate more curry flavor and remove what I felt were some unneeded steps. The basic idea is the same, however, which is using the stem portions of the cauliflower as part of the thickener for the cream sauce.
Another great dish for a party. The entire making was done the day ahead, and on the day of the party it needed only 20 minutes of oven time.
- 2 cauliflower
- 1 T butter
- 4 T minced shallots
- 2 C heavy cream
- 1.5 T curry powder
- grated pamasagn cheese
1) cut cauliflower into small florettes (fork sized). Chop stems into small bits
2) cook stems in butter and shallots until begining to soften, add water if needed to keep from browning
3) Add cream and heat through
4) blend mixture until very smooth, season with salt and pepper, and hold
5) blanch florettes in large pot of boiling water (add salt and vinegar to water to prevent discoloring) until just tender (about two minutes). Drain and place into final cooking pan.
6) Pour blended mixture over florettes.
7) Sprinkle with cheese. Cover and hold (in fridge) until next day
8) Bake in 450 oven for 15 minutes (or until clearly bubbling and hot).
9) Place under broiler for an additional 5 minutes to brown top
Posted by dowdy at December 24, 2005 06:48 AM