The Bounding Mains
The main courses were all nice and hearty dishes. The main meat was a slow braised short ribs over risotto.
- trim fat off the top, but leave on the bone, salt and pepper
- bone side down in a roasting pan 400 degree oven for about an hour, or until nicely browned
- remove pan from oven, ribs from pan, pour of all of the grease
- return ribs to pan. Zinfandel wine (2 bottles) + stock (I used oxtail, but chicken also works) + some large carrot pieces. Liquid about 1/2-3/4 up the ribs. Heat pans until liquid is to a boil.
- cover pans (we used foil because the pans were huge, and we were actually using two pans) return to oven at 325-350.
- braise for 2-3 hours or until the ribs are tender (these were 2.5, I think). You can start checking the ribs at 2 hours
- remove foil (careful!) and let ribs cool for a bit in the liquid
- remove ribs into a small pan and cover well with foil (at this point it was 4 o'clock or so, so we just left this covered pan out). They will most likely fall off the bone and this point, and that's fine.
- strain liquid, cool, skim fat
To re-heat/serve
- reduce liquid well until it starts to become a bit thick (I think we had maybe two cups remaining after reducing from a starting point of two bottles of wine)
- return ribs (still in their small pan, still covered) to a 350 degree oven to warm up
- toss ribs in sauce, or spoon over, or what have you.
- we made a basic saffron risotto with chicken stock and cheese, which I think is an excellent foil for the sauce.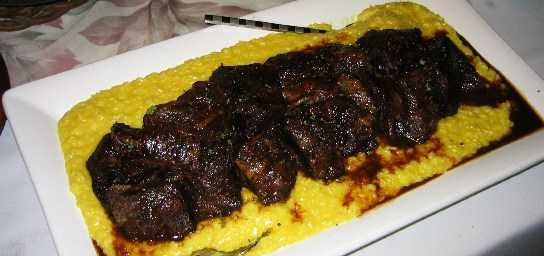 Braised Short Ribs on Saffron Risotto
Turns out during development of this dish, I wrote up how I make risotto.
Hotel Butter (and compound butters in general) are a favorite of mine, but lots of people don't cook when them often (myself included). While traditional over meats, I think they also work nicely with this vegetarian dish.
To make hotel butter:
- soften butter (I used a pound)
- use paddle attachment of mixer to whip butter until lightened (you want to get it as fluffy as you want before adding any of the other ingredients)
- add 2 finely minced shallots
- add herbs (I used thyme and parsley, which is traditional)
- add lemon juice (I used two lemons)
- mix until very well combined
- use as is, or roll in parchment paper into a "log". Wrap with plastic and keep in fridge for a week or so, or freeze for longer storage
We use this with turned carrots, parsnips, and rutabegas. The kitchen staff all got a "lesson" in turning vegetables. It starts out very interesting and fun to be learning, and quickly turns into a dull grind. This is why I have help for these things. I've done turned vegetables for a crowd all by myself once, and it is not a fun time.
As I usually do with vegetables, we par-cooked them (in order of white, yellow, and orange to avoid the colors bleeding into one another) and shocked them in ice water. For service, it was just a basic re-heat with the butter.

Turned Winter Vegetables with Hotel Butter
The beans in this are just some basic french beans (blanched and shocked as above and re-heated in (what else?) butter for service). The fun thing with this recipe is the "garnish" of shallots.
These are whole peeled shallots (another fun chore for the staff) that are slow-cooked in a pot with port wine until the wine as reduced to a syrup. This also makes a nice reduced sauce for anyone who wouldn't be eating the ribs listed above.

French Beans with Port Braised Shallots
Posted by dowdy at January 3, 2005 08:59 AM