Toasted Raviolli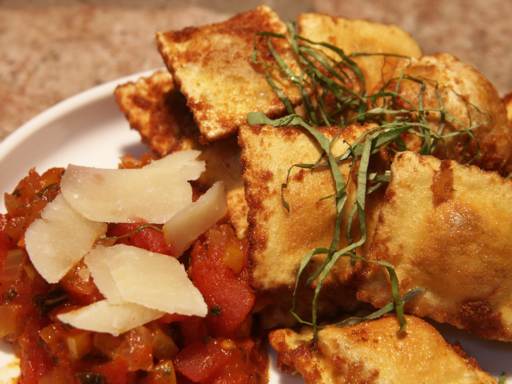 With the oil leftover from yesterday's fries, I decided to make a Saint Louis specialty -- toasted raviolli. Since it was a weeknight, these happened to be purchased from a local producer, Lucca.
I made the basic marinara myself, however. And the parmesan was real. And the basil was from my garden.
Take frozen raviolli. Dip in flour. Dip in egg wash. Dip in bread crumbs (I used fresh, but dry work OK as well). Place on tray and return to freezer. When well frozen, fry in 350 degree oil until GBD (golden, brown, and delicious) -- around 3-4 minutes. Drain on paper towels and serve.
Carol liked 'em. I thought I put too much bell pepper in the marinara and maybe should have made it a bit less chunky. But it certainly looked cool on the plate!
Posted by dowdy at July 25, 2003 07:18 PM