Summer Party
Well, here's how the party played out. It was lots of fun and the food turned out especially good this year. And, of course, Carol's tables looked fantastic. We also finished prep with an hour to go before the party, which I think is a New World's Record.
When the guests arrived, the serving table was pretty much covered with Salads and Starters. I like salads for summer parties. They're all about prep and little to no actual cooking -- which helps to keep down the temperature in the kitchen.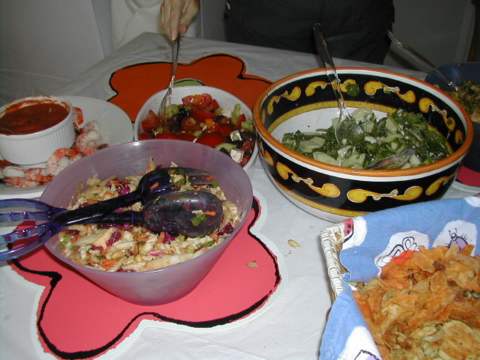 Spinach, Blue Cheese, Apple Salad
Used Maytag Blue cheese and a very basic vinegar/mustard dressing. It was excellent and elegant.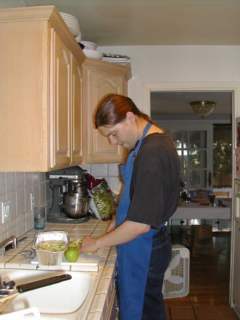 Chinese, Peanut "Slaw"
Two kinds of cabbage, lettuce, carrots and a dressing of peanut butter, hoisin, soy sauce and lime.
Greek Salad
Your basic tomatoes, olives, feta type salad. Used lemon/olive oil and sumac powder in the dressing.
Taco Bean Salad
Pinto beans, lettuce, tomato and cheddar cheese with crumbled up tortilla chips. A dressing of salsa, lime, and oil.
Shrimp cocktail
The shrimp were boiled in a cajun spice mixture. The cocktail sauce was made from scratch, including the ketchup. Good grief, what was I thinking? But it got a whole bunch of compliments -- which I deflected to William who made it.
Cheese and Fruit Platter
Then, we started bringing out the main dishes as they finished cooking. Mostly it was slicing and plating.
Carol's Non-Traditional Spare Ribs
Spare ribs coated in rosemary rather than normal BBQ spices. I also made two racks of beef ribs with the same flavoring. The sauce was a thickened pork stock with more rosemary and mustard added.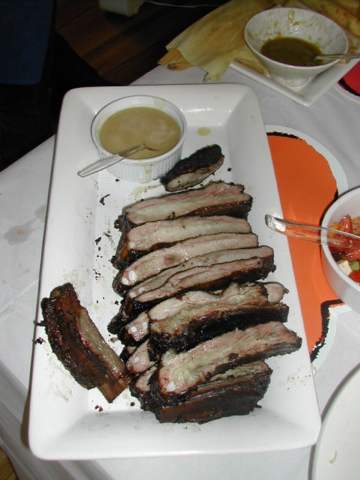 Hot 5 Ways to Sunday Babybacks
I made way too many of these (and knew it as I was making them). But, they reheated well on the following day during party cleanup mode.
Carol's Chicken
Spatchcocked and coated in garlic and rosemary rub. In case you can't tell, Carol loves Rosemary with a Loving Love. Cooked in the smoker for about two hours.
BBQ Sausage
We made these from scratch. A light italian type seasoning. 50/50 pork butt and beef tri-tip. Smoked for about three hours in the upper portion of the smoker.
BBQ Beans
7 hours in the smoker with meat dripping in to them.
Onion Rings with Remoulade
A smash hit. William and Derrick were slaving over a hot oil pan for about an hour making these on demand.
Vegetable Tamales with Tomatilo Sauce
A mixture of diced vegetables inside, steamed for about an hour. We put these out early and had to keep re-stacking the plate with more. I guess everyone had at least one.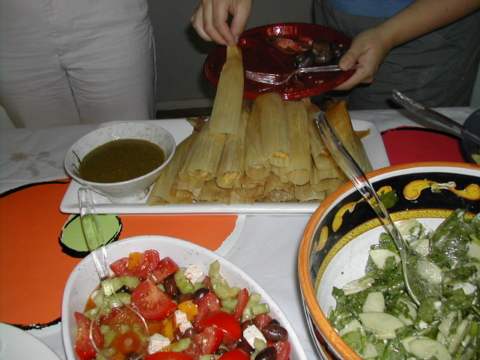 Rediculous Mushrooms
5 pounds of mushrooms cooked down in red wine, sage, italian seasonings and butter until they are dark and inky looking. There were two left.
Profiteroles with 3 sauces
Derrick, Carol, and I filled over 160 mini-cream puffs with vanilla ice cream. Served with vanilla sauce, carmel sauce, and chocolate sauce.
BBQ Pineapple
Coated in coconut milk (which I don't think they really needed) and dipped in cinnamon/sugar and then grilled. Very juicey!
Posted by dowdy at July 14, 2003 07:53 AM