Fancy Dinner
I haven't made a fancy dinner for Carol in a while, so Friday night I did so.
First course was a cajun inspired shrimp bisque. I had some leftover shrimp stock in the freezer, which I cooked with some bell peppers, onion, and celery. Tossed in some pre-cooked rice and let the whole thing cook down for a while. Then I blended it, strained it out, reduced it, adjusted the seasonings with cayenne pepper and salt. Then I added heavy cream and mounted the result with lobster butter (again, I had some in the freezer).
To serve this, I also made some very small savory cream puffs, which I filled with a garlic/shallot/tarragon sautee of shrimp. These went in the middle of the soup bowl.
In keeping with the southern theme, the main course was maple glazed boneless pork chops atop rounds of garlic toast, mixed sauteed vegetables, a "weed salad" and thin strips of jicama. I plated these all towered together, in a sort-of homage to tornados Rossini. The pork ended up being overcooked, which was the only thing I was disappointed with. The contrast of the textures of the veg and salad turned out very well.
With this dish, there was certainly the danger of heading into "confusion cuisine". I used the jicama and chayote squash as part of the veg in order to work with the sweetness from the sauce (both have an apple-ish potato-ish taste and texture), but maple, plus southwestern vegetables, plus southern sense was perhaps a bit too much. Flavor wise everything was fine, and the plating didn't turn out too badly.
To finish off, some very simple apple tarts, with basic vanilla ice cream and a bourbon caramel sauce. These were also good, although I should have thinned out the sauce with a bit more cream. As it was, it was a bit too much like candy in terms of texture.
The extended entries now has pictures of each dish. Also, for some reason people keep asking how long these things take for me to do. Prep and non-during service cooking was about an hour and 15 minutes. The only thing that needed to be cooked "live" was a pork chops and veg that went with them.
I don't usually make prep lists for basic dinners, but there were a few things I didn't want to forget this time around...
- fine dice veg for main
- prep salad for main
- prep jicama for main
- prep dressing for main
- make pate a choux and cook
- prep shrimp for filling, herbs, shallot, garlic
- make bourbon carmel sauce, into squirt bottle
- cut and lemon apples v/ thin slice
- make tarts
- glaze tarts w/ apricot
- veg rice and stock for soup
- blend/strain soup
- mix up galze for main
- cream and butter soup
- sautee shrimp and fill
- plate soup
- chervil on top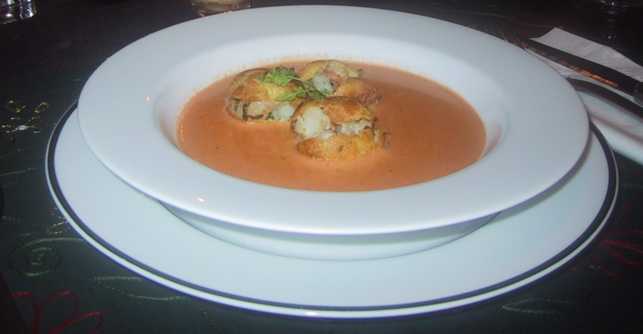 - cut toasts for main
- broil & garlic butter
- spice chops
- cook chops & in oven
- sautee veg
- add glaze, reduce, into squirt bottle
- plate main
- toasts
- ring form, veg
- pork
- salad
- hicama
- glaze around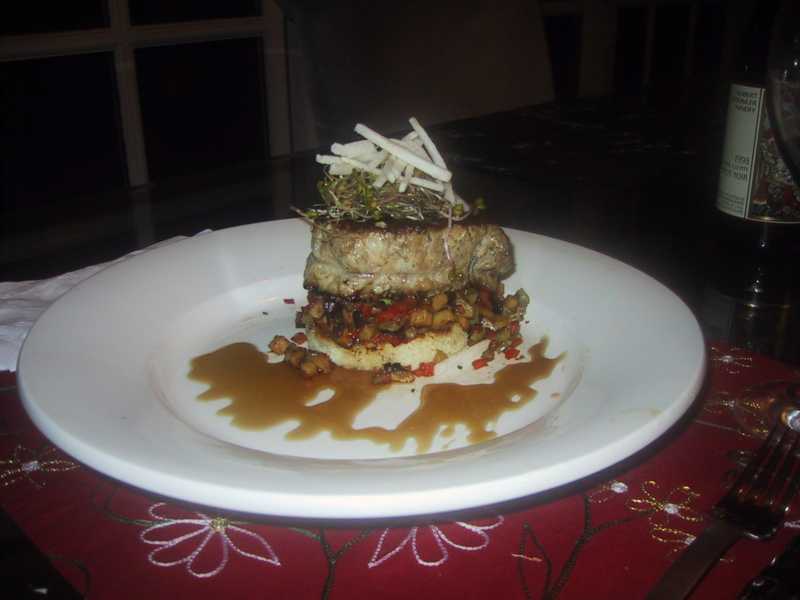 - cut tarts
- caramel on bottom
- small ice creams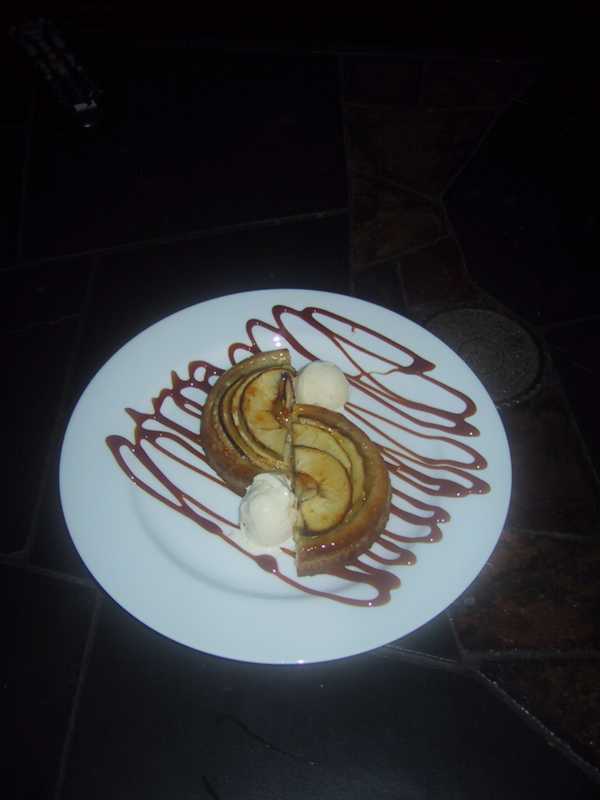 Posted by dowdy at February 8, 2003 09:59 AM